Qatari non-energy economy powers ahead in August with near-record improvement in business conditions
8 Sep 2021

The latest Purchasing Managers' Index™ (PMI™) survey data from Qatar Financial Centre signalled a strengthening non-energy economy in August. Overall business conditions improved at the fastest rate since July 2020, and the second sharpest since the survey began in April 2017. The key metrics of output and new business registered the fastest rates of growth signalled by the survey outside of the one-off post-lockdown bounce in July and August last year. This healthy growth of both current and future business bodes well for Qatar's non-oil economy, with exports that now well exceed pre-pandemic levels and in an increasing number of foreign markets.
The Qatar PMI indices are compiled from survey responses from a panel of nearly 400 private sector companies. The panel covers the manufacturing, construction, wholesale, retail, and services sectors, and reflects the structure of the non-energy economy according to official national accounts data.
The headline IHS Markit Qatar PMI is a composite single-figure indicator of non-energy private sector performance. It is derived from indicators for new orders, output, employment, suppliers' delivery times and stocks of purchases.
The PMI rose for the third month running to 58.2 in August, from 55.9 in July. The latest figure signalled the second-strongest overall improvement in operating conditions since the survey began in April 2017. Only in July 2020 had the headline PMI registered at a higher level as the economy reopened from the first COVID-19 lockdown. Moreover, business conditions have improved for 14 successive months, the longest sequence in the survey's history.
Sub-sector data signalled improvements in all four main categories. Wholesale & Retail registered the strongest performance, followed by manufacturing, services and construction, respectively.
The headline PMI was positively influenced by four of its five components in August, the exception being suppliers' delivery times which was broadly neutral. The 2.3-point upward movement in the PMI since July mainly reflected the new orders (+1.1) and output (+0.9 points) components, followed by employment (+0.2) and stocks of purchases (+0.1).
Marked growth of output was driven by a rapid increase in new business in August. Demand expanded at one of the fastest rates on record, with only July-August 2020 seeing stronger increases in new orders. Consequently, backlogged work rose for the eleventh month running in August, despite a further rise in employment.
The volume of inputs ordered by Qatari private sector firms rose at the second-fastest rate in the survey history in August, as they looked to support business operations over the near term. Output expectations were the strongest since October 2020.
Inflationary pressures increased in August, with average input prices rising for the fourth time in five months. This was driven by rising purchase prices for raw materials and other items, while staff costs were only fractionally higher than in July. Prices charged for goods and services rose at the fastest rate since March.
QFC Qatar PMI vs. GDP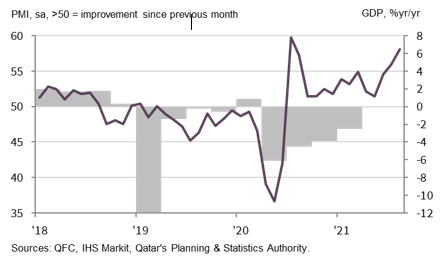 "Qatar's PMI ascended for the third month running in August to the second-highest level recorded since the survey began in 2017, signalling a rapid overall improvement in business conditions. Only post-lockdown did a stronger month-on-month performance register as restrictions began to be lifted. Growth rates for output and new orders were the third-fastest on record, and the 12-month outlook also notably improved.
"The recent strength of the PMI is pointing to a generous rebound in official GDP data for the second and third quarters."


Sheikha Alanoud bint Hamad Al-Thani, Deputy CEO & Chief Business Officer, QFC Authority