Non-energy growth regains momentum in February
3 Mar 2022

Doha, Qatar: 3 March 2022 – Purchasing Managers' Index™ (PMI™) survey data from Qatar Financial Centre (QFC) signalled a swift rebound in growth in the non-energy private sector in February following a brief loss of momentum in January due to a temporary reinstitution of COVID-19 protocols. The rates of expansion in output, new orders and backlogs of work all re-accelerated and were among the fastest registered throughout the near five-year history of the survey. Moreover, employment rose for a record seventeenth successive month, and the 12-month outlook improved as firms continued to report opportunities linked to the FIFA World Cup.
The Qatar PMI indices are compiled from survey responses from a panel of around 450 private sector companies. The panel covers the manufacturing, construction, wholesale, retail, and services sectors, and reflects the structure of the non-energy economy according to official national accounts data.
The headline Qatar Financial Centre PMI is a composite single-figure indicator of non-energy private sector performance. It is derived from indicators for new orders, output, employment, suppliers' delivery times and stocks of purchases.
The PMI rebounded from January's six-month low of 57.6 to 61.4 in February, indicating a rapid improvement in overall business conditions. The 3.8-point rise in the headline figure recovered all the loss registered in the opening month of 2021 and was the third-largest month-on-month gain in the survey history. Moreover, the latest reading was the joint-third highest since the series began in April 2017. Only in October (62.2) and November (63.1) last year had stronger growth been registered over the last 5 years.
The boost in the PMI in February was reflected in all five of the headline figure's components with the biggest directional influence coming from new orders (+1.8 points), followed by output (+1.4), employment (+0.3) and stocks of purchases (+0.2). Suppliers' delivery times had a fractionally positive influence compared with January.
Growth quickened in the manufacturing, construction and services sectors, while wholesale & retail also registered a strong overall expansion in activity despite some loss of momentum since January.
New business growth also accelerated in February and was among the fastest recorded in almost five years of data collection. All four sectors posted stronger growth in new orders, led by manufacturing. With demand improving, backlogs of work increased for the seventeenth consecutive month and at a rate second only to last November in the survey's operation.
Employment in the non-energy private sector continued to rise in February, extending the current series-record sequence of job creation to 17 months. Moreover, the rate of growth was among the strongest on record. Purchasing growth also accelerated in February to the second-strongest on record.
Average input costs rose in February, linked to both purchase prices and wages. In contrast, prices charged for goods and services fell for the first time in five months, and at the fastest rate since January 2020.
QFC Qatar PMI™ vs. GDP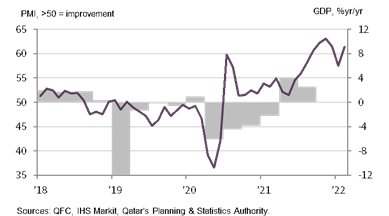 Financial sector booms in February
Growth rates for total activity and new business both accelerated

Fastest jobs growth in four months

Charges levied fall despite strong increase in costs
The latest PMI data on Qatar's financial services sector signalled burgeoning demand in February. New business received in the sector rose at the third-fastest rate on record in the near-five year series history, leading to the second-fastest rise in total business activity.
Employment at financial services firms rose for the seventh month running, and at the fastest rate since last October, while business expectations picked up since January.
Average input costs at financial services firms rose solidly for the sixth month running in February, at a rate that matched last October's recent high. Meanwhile, prices charged for financials services fell slightly, having been broadly stable in January.
" January's PMI easing proved short-lived as the headline figure recovered strongly in February to post 61.4, the joint-third highest ever registered in nearly five years of the survey's operation. Only in October and November last year had the PMI signalled stronger monthly improvements in business conditions at non-energy private sector firms.
"Indicators for output, new business, purchasing, employment and backlogs all signal marked rates of growth in the latest period, with survey respondents continuing to highlight the forthcoming FIFA World Cup as a source of business.
"Recent PMI data for the final quarter of 2021 signal that official economic growth will post strong performance, having eased to 2.6% on an annual basis in the third quarter from 4% in the second quarter."

Yousuf Mohamed Al-Jaida, Chief Executive Officer, QFC Authority