Activity and demand rebound in February, driving outlook higher
6 Mar 2023

Doha, Qatar: 6 March 2023 – The latest Purchasing Managers' Index™ (PMI™) survey data from Qatar Financial Centre (QFC) for February indicated a rebound in business activity as demand improved. This drove firms' expectations for the next 12 months to the highest since September 2019.
The Qatar PMI indices are compiled from survey responses from a panel of around 450 private sector companies. The panel covers the manufacturing, construction, wholesale, retail, and services sectors, and reflects the structure of the non-energy economy according to official national accounts data.
The headline Qatar Financial Centre PMI is a composite single-figure indicator of non-energy private sector performance. It is derived from indicators for new orders, output, employment, suppliers' delivery times and stocks of purchases.
The PMI posted a marked increase from 45.7 in January to 51.9 in February, indicating a resurgence in overall business conditions following a brief correction at the start of 2023 following the FIFA World Cup Qatar 2022™ tournament. The month-on-month rise in the headline figure, at 6.2 points, was the second-largest observed since the series began in April 2017 and the largest outside the pandemic era (the biggest ever rise of 17.7 points occurred in July 2020).
The main boosts to the headline PMI were renewed growth in output and new business, which both increased at rates broadly comparable with their long-run averages following corrections in January. There was a notable rebound in demand in the wholesale & retail sector.
Forward-looking data continued to highlight improving prospects for the non-energy private sector in February. The Future Output Index rose for the seventh month running to a 41-month high of 82.7, indicating a strong degree of optimism. The Index has risen by a combined 21 points in 2023 so far, the largest two-month gain over the series history. Confidence improved in all four main sectors in February, with the strongest overall sentiment seen among manufacturers. Anecdotal evidence provided by respondents widely mentioned the initiation of new projects and successful marketing campaigns.
February data indicated growing wage pressures, with the Staff Costs Index at a 17-month high. Salary increases were linked to both new recruits and improved rewards for existing staff. The Employment Index, tracking the overall level of staffing, was little-changed from January's six-month high.
Overall cost pressures eased slightly since January, reflecting a decline in purchase prices. Meanwhile, firms raised charges for goods and services for the ninth time in ten months.
Companies continued to complete backlogged work in February, although the respective index rose to a five-month high, signalling some returning pressure on capacity due to rising demand.
QFC Qatar PMI™ vs. GDP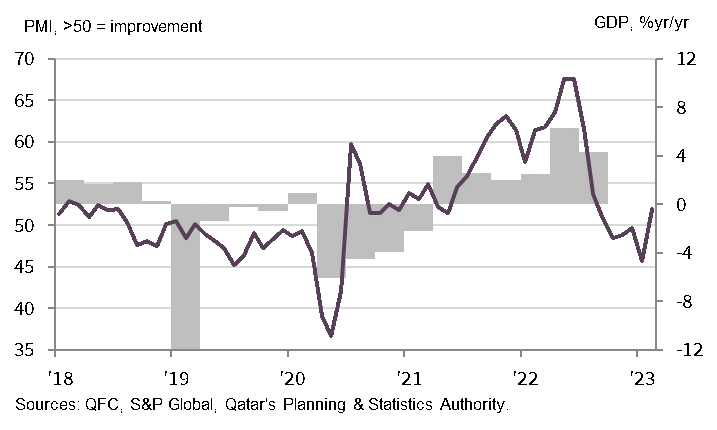 Strongest inflows of new business for six months
Financial Services New Business Index at 60.1
Current activity levels and expectations remain elevated
Record rise in charges for financial services
The financial services sector in Qatar continued to expand at a marked rate in February as the volume of new business increased the most since August 2022. Activity increased for the twentieth successive month, and at a rapid pace, while expectations eased only slightly on January's recent peak.
New business grew for the thirty-third consecutive month in February, and at the fastest rate since last August. Meanwhile, financial services firms continued to expand their headcounts at a robust pace.
February data indicated a record increase in charges levied by financial services firms, with the Prices Charged Index surging to 62.8. In contrast, the Input Prices Index fell to 50.2, indicating almost no increase in average costs.
The latest set of results suggest that business conditions in the non-energy private sector have normalised following a correction at the start of the year, with the February headline PMI reading of 51.9 broadly in line with the long-run average of 52.2.

The key indices for output and new orders both rebounded solidly, with demand improving across all four of the main sectors monitored. Similarly, the Future Output Index rose further to a 41-month high of 82.7 in February, well above the long-run average of 64.6. Firms widely reported the beginning of new projects and successful marketing campaigns, which also boosted confidence in the outlook.

The financial services sector experienced significant growth and expansion in February, with strong inflows of new business, elevated activity levels, and robust headcount expansion. Additionally, the record rise in charges levied by financial services firms indicates their capability to command higher prices for their services.

Yousuf Mohamed Al-Jaida

Chief Executive Officer, QFC Authority