Non-energy private sector continues to expand rapidly in July
3 Aug 2022

Doha, Qatar: 3 August 2022 – The latest Purchasing Managers' Index™ (PMI™) survey data from Qatar Financial Centre (QFC) continued to signal rapid growth in the non-energy private sector in July. The rates of expansion in total activity, new work and outstanding business all eased slightly compared with June but were still among the fastest registered throughout the survey's more than five-year history. Headcounts meanwhile rose marginally while sentiment mo derated somewhat.

Positively for businesses, overall input prices fell slightly in July while firms continued to raise selling prices.

The Qatar PMI indices are compiled from survey responses from a panel of around 450 private sector companies. The panel covers the manufacturing, construction, wholesale, retail, and services sectors, and reflects the structure of the non-energy economy according to official national accounts data.

The headline Qatar Financial Centre PMI is a composite single-figure indicator of non-energy private sector performance. It is derived from indicators for new orders, output, employment, suppliers' delivery times and stocks of purchases.

The PMI remained well within expansion territory in July at 61.5. This eased notably from June's previous record high but was still among the strongest in the survey, which began in April 2017.

The two largest components of the PMI by weight – new orders and output – were behind the month-on-month dip in the headline figure in July. Output and new orders rose sharply, albeit at the softest pace for four and five months, respectively.

Wholesale & retail firms recorded the steepest increase in activity levels followed by manufacturing, construction and services.

With demand and output expanding rapidly in July, non-energy private sector firms in Qatar raised their workforces. Employment levels have now increased for 22 months in a row.

Robust demand conditions continued to exert pressure on capacity with backlogs rising moderately during the month. However, the rate of accumulation slowed notably from June, and was modest overall.

Sustained new order growth led firms in Qatar's private sector to raise their buying activity. Purchases have now risen in each of the last 25 months with the latest uptick among the strongest in the survey's history. Subsequently, stocks of inventories rose, albeit only moderately amid improving vendor performance.

On the price front, purchase prices increased at the softest pace in three months while overall input prices fell fractionally. Firms opted to raise selling prices at a softer pace, but at a rate that was still among the quickest in the survey's history.

Firms remained optimistic that their output levels would improve over the coming 12 months amid the upcoming FIFA World Cup.


QFC Qatar PMI™ vs. GDP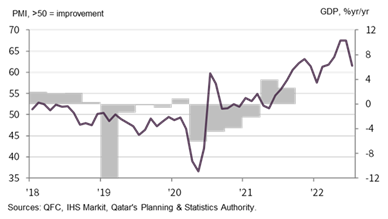 Financial sector maintains rapid growth
Growth rates for activity and new business ease, but remain markedly high

Headcounts rise for the eleventh month in succession

Prices charged for financial services fall modestly
The latest PMI data on Qatar's financial services sector signalled further marked growth in July. Business activity increased at a slower pace to that seen in the previous five months, but growth was marked compared to the historical average. New business followed a similar trend, easing to a five-month low but remaining robust overall.

Employment at financial services firms rose marginally, although at a softer pace, while business expectations remained positive.

On the price front, average input costs at financial services firms rose marginally, and at the softest pace in the current eleven-month sequence of inflation. By contrast, prices charged for financials services fell moderately and at the quickest pace for 20 months.

Despite correcting from record highs in May and June, latest PMI data pointed to continued strong performance in Qatar's non-energy sector. Output and new orders expanded markedly, while headcounts rose once again. At the same time, delivery times improved at the greatest extent for over a year and firms were keen to purchase and store items.
"Positive news also came on the price front with overall input prices falling slightly in July. Robust demand conditions allowed firms to focus on their profits by raising their selling prices for the third month running.
"Companies have their sights set on higher output over the coming months, with the FIFA World Cup still a key factor underpinning positive sentiment.

Yousuf Mohamed Al-Jaida, Chief Executive Officer, QFC Authority