PMI at series high in June
6 Jul 2022

Doha, Qatar: 6 July 2022 – The latest Purchasing Managers' Index™ (PMI™) survey data from Qatar Financial Centre (QFC) signalled a second successive record improvement in operating conditions in the non-energy economy to conclude the second quarter of 2022. Output growth quickened to a fresh series high, while new orders, quantity of purchases and backlogs rose at near-record rates. Strong demand continued to support job creation, but also led firms to raise their stockpiles.


Turning to prices, overall input costs rose only moderately in June, while selling price inflation quickened to a six-month high amid robust demand conditions.


The Qatar PMI indices are compiled from survey responses from a panel of around 450 private sector companies. The panel covers the manufacturing, construction, wholesale, retail, and services sectors, and reflects the structure of the non-energy economy according to official national accounts data.


The headline Qatar Financial Centre PMI is a composite single-figure indicator of non-energy private sector performance. It is derived from indicators for new orders, output, employment, suppliers' delivery times and stocks of purchases.


The PMI was unchanged at 67.5 in June, thereby signalling a second successive record in overall business conditions in Qatar's non-oil sector.


The latest reading of the PMI was driven by new orders and output components, which together have a weight of 55% in the headline figure. Output growth quickened to a new series high while new business rose substantially, but at a slightly softer pace to that seen in May.


Firms linked growth to healthy trading conditions and also cited that strong demand stemming from the upcoming FIFA World Cup.


Subsequently, Qatari non-energy companies remained confident that output would continue to expand over the next 12 months. Sentiment was the strongest for four months with Wholesale & Retail firms particularly optimistic.


Greater output and sustained new order growth supported another rise in headcounts in June. The rate of growth was softer than that in May, but still solid overall and the fourth-strongest in the survey history. Backlogs meanwhile rose substantially, suggesting capacity pressures continued.


Purchasing activity rose in June, with buying activity now observed over the last two years. The volume of inputs rose at the second-fastest rate on record, surpassed only by that seen in May. Stocked inputs meanwhile rose moderately and at a quicker pace than in May.


Average purchase prices rose only mildly in June. Despite this, selling prices levied by Qatari non-energy firms rose at the quickest pace for four months. Robust demand allowed firms to hike their fees at the fourth-strongest rate in the survey's five-year history.

QFC Qatar PMI™ vs. GDP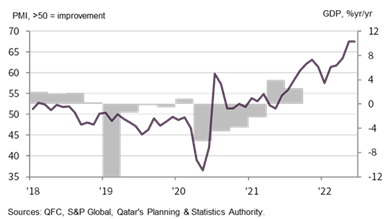 Marked growth in financial service activity sustained in June
PMI data focusing on financial sector indicate marked growth

New business expands at the second-fastest rate to date

Strongest increase in charges since October 2017
June data covering Qatar's financial services sector signalled another substantial increase in business activity. The rate of growth eased slightly from May's record high but was the second-fastest since the series began in 2017.


New business inflows at financial services firms rose further in June. Growth was the second-strongest in the series, with only May recording a faster increase over the survey history. Expectations for activity over the next 12 months remained positive, leading workforces to be expanded for the tenth month in a row.


Average input costs rose further, and at a quicker rate. Meanwhile charges levied for financial services rose the most since October 2017, signalling improved profitability.
The latest survey data for Qatar have shown the non-energy economy going from strength to strength. The PMI set a record high for the second month in a row, backed by robust demand and output growth.
"Moreover, the level of outstanding business at companies increased sharply suggesting activity will continue to expand over the coming months.
"At the same time, firms added to their workforces amid plans to further expand their businesses and capitalise on favourable trading conditions. Stockpiling efforts also suggest businesses are gearing up for a strong second half of the year.
"Firms meanwhile faced relatively tame rates of input cost inflation, with purchase price pressures weak compared to the historical average. The same firms sought to improve profitability by raising selling prices amidst strong demand conditions

Yousuf Mohamed Al-Jaida, Chief Executive Officer, QFC Authority