PMI hits new peak in May, driven by surging demand
5 Jun 2022

Doha, Qatar: 5 June 2022 – The latest Purchasing Managers' Index™ (PMI™) survey data from Qatar Financial Centre (QFC) signalled a record improvement in operating conditions in the non-energy economy midway through the second quarter of the year. Output, new orders, purchasing activity and backlogs rose at the fastest rates since the survey began in April 2017, while employment expanded at a near-record rate. Buoyant market conditions supported optimism, which improved from April's low.
On the price front, inflationary pressures continued to mount with higher prices reported for materials and other inputs. This trend is not Qatar specific. Firms chose to lift their selling fees for the first time in four months.
The Qatar PMI indices are compiled from survey responses from a panel of around 450 private sector companies. The panel covers the manufacturing, construction, wholesale, retail, and services sectors, and reflects the structure of the non-energy economy according to official national accounts data.
The headline Qatar Financial Centre PMI is a composite single-figure indicator of non-energy private sector performance. It is derived from indicators for new orders, output, employment, suppliers' delivery times and stocks of purchases.
The PMI increased to a fresh record high of 67.5 in May, up sharply from April's previous peak of 63.6. This indicated the strongest overall improvement in business conditions in Qatar's non-energy sector since the survey began over five years ago.
A record uplift in new orders underpinned the strongest expansion in output in the survey's five-year history. There were also mentions of greater tourist activity, the upcoming FIFA World Cup, retreating pandemic restrictions and shorter lead times.
Manufacturers recorded by far the strongest uplift in output, followed by services, wholesale & retail, as well as construction, respectively.
Sustained expansions in demand led to further capacity pressures at Qatari non-energy firms. In fact, outstanding business rose at the quickest rate in the series history, accelerating sharply from the previous peak in April. Firms sought to tame rising backlogs by lifting their headcounts at a near-record rate.
Higher output requirements led companies to raise their buying activity at a survey-record rate. Stocks of purchases meanwhile rose at the fourth-strongest rate in the series history.
Firms were confident that workloads would rise over the coming 12 months, with sentiment improving in May. The upcoming FIFA World Cup and hopes of greater tourist activity were key drivers of optimism. By sub-sector sentiment was strongest among service providers.
Finally, price pressures continued to build midway through the second quarter of the year, with average overall input costs rising in each of the last ten months. In fact, the rate of inflation was the strongest since August 2020. In response, companies lifted their selling prices for the first time in four months.
QFC Qatar PMI™ vs. GDP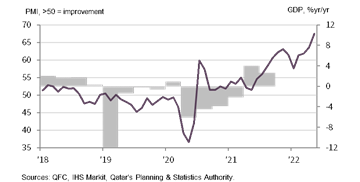 Financial sector expands at record rate in May
Output and new orders expand at fresh record-rate in May
Sentiment improves to three-month high
Inflationary pressures continue to mount
Latest PMI data on Qatar's financial services sector signalled another sharp improvement in business activity, driven by a record uplift in new business in May.
As a result, business confidence improved to a three-month high. Supportive demand conditions encouraged firms to raise their staffing levels during the month. Headcounts have now risen continuously over the last nine months with the latest expansion the strongest since October 2021.
Higher headcounts, along with a general rise in expenses led to a solid, albeit softer, increase in overall input prices. Output charge inflation quickened, however, and was the fifth-fastest in the series history.
The second quarter of 2022 saw a record improvement in business conditions in Qatar's non-energy sector. Output expanded at the strongest rate in the series' five-year history as demand conditions were more than favourable. At the same time, firms continued purchasing activity to fulfil their new orders and added to their headcounts.

Record uplifts in backlogs should sustain output growth in the coming months as firms continue to work through their work in hand.

Qatar's non-energy private sector once again registered a strong performance, which has particularly been the case over the last eleven months."

Yousuf Mohamed Al-Jaida, Chief Executive Officer, QFC Authority