FIFA World Cup Qatar 2022TM underpins faster expansion in activity and strongest business optimism for over two years
5 Dec 2022

Doha, Qatar: 6 December 2022 – The latest Purchasing Managers' Index™ (PMI™) survey data from Qatar Financial Centre (QFC) indicated faster growth of business activity in November as the FIFA World Cup Qatar 2022TM kicked off in the second half of the month. Wholesale, retail and service providers in particular registered rapid expansions in activity. Moreover, sales prices increased at a series-record rate, with surging tourism demand from the tournament supporting higher rates for hotels, rentals, flights and other services. The November survey findings also showed that firms were at their most optimistic regarding the 12-month outlook since October 2020, as they sought to capitalise on post-tournament business opportunities.
The Qatar PMI indices are compiled from survey responses from a panel of around 450 private sector companies. The panel covers the manufacturing, construction, wholesale, retail, and services sectors, and reflects the structure of the non-energy economy according to official national accounts data.
The headline Qatar Financial Centre PMI is a composite single-figure indicator of non-energy private sector performance. It is derived from indicators for new orders, output, employment, suppliers' delivery times and stocks of purchases.
At 48.8 in November, up from 48.4 in October, the PMI rose for the first time in six months and pointed to a near-stabilisation in overall non-energy private sector business conditions. Looking at the five components of the headline figure, a rapid rise in activity – the Output Index rose to 63.0, linked to retail trade and services – was countered by a construction-driven cooling in new orders, as well as shorter supplier lead times and cuts to input stocks as firms looked to save costs.
Non-oil private sector output rose for the twenty-ninth consecutive month in November. The rate of growth was the fastest since July and well above the long-run survey average. Data broken down by the four broad sectors revealed especially marked growth in wholesale & retail and services, reflecting the positive impact of the FIFA World Cup Qatar 2022TM.
There was a further cooling of new sales in November, especially in construction, as total activity growth was driven by the completion of existing work. Outstanding business was cleared at the fastest rate since July 2019.
The 12-month outlook for business activity improved further in November, as companies looked to capitalise on post-tournament business opportunities. The overall degree of confidence was the highest since October 2020, with construction and service sector firms the most upbeat.
Prices charged for goods and services rose at the fastest rate in the survey history in November, and for the seventh successive month. This partly reflected increased pricing power among firms linked to the FIFA World Cup Qatar 2022TM, particularly in the wholesale & retail and services sectors. Meanwhile, average input prices fell slightly for the first time in four months, reflecting lower staff costs and broadly stable purchase prices.
Purchasing activity was further reduced in November as firms reported sufficient inventory levels. Input stocks fell for the fourth month running and at a faster rate as companies pursued efficiency gains and as supplier performance continued to improve: average lead times were the quickest since September 2020. Employment also declined, most notably in the construction sector.
QFC Qatar PMI™ vs. GDP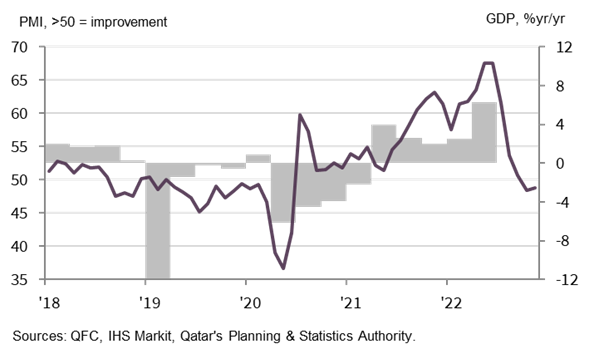 Growth of financial services activity remains strong
Activity expands for seventeenth month running

New business growth strengthens in November

Financial services companies continue to cut charges
Financial services firms in Qatar recorded another marked increase in business activity in November, and one that was faster than in October. The current growth sequence was extended to 17 months, and the pace of expansion in the latest period remained above the long-run five-and-a-half-year average.
New business continued to expand in November, and at a faster rate. Meanwhile, employment was broadly stable over the month and the 12-month outlook for activity remained positive.
Input prices paid by financial services companies were broadly stable in November, while charges levied for services fell for the fifth month running as companies sought to boost competitiveness.
November saw a rapid expansion in business activity in Qatar's non-oil private sector as the FIFA World Cup Qatar 2022TM kicked off, with growth unsurprisingly driven by the wholesale, retail and services sectors. These industries also registered marked increases in selling prices during the month, with the overall rate of output price inflation the highest on record.
"Overall, non-oil companies were the most confident in over two years as they eyed post-tournament business opportunities. The new order index witnessed a rise for the first time since hitting a record high in May, while new sales cooled slightly during the month. Similarly, the employment index rose in November, despite a decline in the employment level reflecting the slowdown in construction sector.
"Supplier deliveries were much more timely in November, allowing firms to minimise stock levels further and improve efficiency. This, combined with strong pricing power, bodes well for company profitability

Yousuf Mohamed Al-Jaida

Chief Executive Officer, QFC Authority