Qatari non-energy sector continues to expand strongly in June
4 Jul 2023

Doha, Qatar: 4 July 2023 – The latest Purchasing Managers' Index™ (PMI™) survey data from Qatar Financial Centre (QFC) indicated sustained growth in the non-energy private sector economy mid-way through 2023. Growth rates for output, new orders, employment and purchasing were all maintained at solid levels, and the 12-month outlook remained firmly positive. The level of outstanding business was reduced, aided by improving supply chains.
The Qatar PMI indices are compiled from survey responses from a panel of around 450 private sector companies. The panel covers the manufacturing, construction, wholesale, retail, and services sectors, and reflects the structure of the non-energy economy according to official national accounts data.
The headline Qatar Financial Centre PMI is a composite single-figure indicator of non-energy private sector performance. It is derived from indicators for new orders, output, employment, suppliers' delivery times and stocks of purchases.
The PMI eased to 53.8 in June, from 55.6 in May, indicating another strong improvement in business conditions. Over the second quarter as a whole the PMI trended at 54.6, the best performance since the third quarter of 2022 (55.3) in the build-up to the FIFA World Cup Qatar 2022™. The latest figure remained well above the long-run trend of 52.3.
The PMI figure was mainly supported by the output and new orders components in June, while employment and stocks of purchases also had positive overall contributions.
New business increased strongly in June. Firms linked rising demand to tourism, competitive pricing, additional marketing initiatives and their good reputation among clients. The rate of expansion moderated since May but was among the fastest seen over the past year. New business growth in financial services accelerated to a ten-month high.
Total business activity rose further in June. Output has risen every month for more than three years, except for a brief correction in January following the conclusion of the FIFA World Cup Qatar 2022™. The rate of expansion eased since May but was the second strongest of 2023 so far and well above the six-year survey trend.
The 12-month outlook for the non-energy private sector remained optimistic in June, linked to new projects, company development plans and marketing campaigns. Positive expectations remained broad-based by sector, led by manufacturing and services.
Non-oil private sector employment rose further in June, helping firms to further reduce their levels of outstanding business. Suppliers' delivery times continued to be cut despite another rise in demand for inputs, with vendor performance improving to the greatest degree in 2023 so far.
Cost burdens rose in June, as they have every month in 2023 to date. The rate of inflation remained slightly above the long-run survey trend. In contrast, prices charged, or goods and services fell for the fourth time in six months, and at the fastest rate since February 2022.
QFC Qatar PMI™ vs. GDP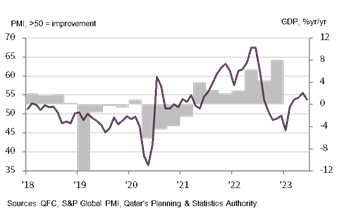 Sharpest rise in new business in ten months
Financial Services New Business Index rises to 63.4
Growth of total financial services activity remains strong
Fastest increase in staffing in five months
Qatar's financial services sector continued to expand markedly mid-way through 2023. Growth in new business strengthened further in June, leading to another rapid rise in total activity. The outlook remained positive, and firms boosted hiring.
New business increased, extending the current growth sequence to over three years. Moreover, the rate of growth in June was the fastest since August 2022 and well above the long-run trend. Total financial services activity rose for the twenty-fourth month running and at a relatively strong pace. Meanwhile, expectations for activity remained strong and financial services firms raised employment.
June data signalled the first cut in prices charged by financial services providers in seven months, which in turn contributed to the increase of business activities.
Although the PMI eased to 53.8 in June, the second quarter as whole recorded a stronger performance than the first three months of 2023, at 54.6. Growth rates for output and new business remain high and well above the six-year survey trend. Companies continue to point to tourism as spurring growth, as well as competitive pricing and new marketing campaigns.
"Financial services expanded sharply, with its headline indices for activity and new business registering 60.0 and 63.4, respectively. Demand for financial services has accelerated for three straight months as finance remains among the leading sectors.
"Companies continue to face rising costs but were nonetheless able to reduce their own prices charged further to attract new sales and retain high profile customers


Yousuf Mohamed Al-Jaida

Chief Executive Officer, QFC Authority