Overall business conditions continue to improve in October
5 Nov 2023

Doha, Qatar: 5 November 2023 – Qatar's non-energy private sector continued to experience improving business conditions at the start of the final quarter of 2023, according to the latest Purchasing Managers' Index™ (PMI®) survey data from Qatar Financial Centre (QFC). Output, new orders and employment all expanded in October, and the 12-month outlook remained upbeat. Moreover, profitability improved as firms raised their prices for goods and services at the fastest rate since February while average input prices fell for the first time in the year so far.
The Qatar PMI indices are compiled from survey responses from a panel of around 450 private sector companies. The panel covers the manufacturing, construction, wholesale, retail, and services sectors, and reflects the structure of the non-energy economy according to official national accounts data.
The headline Qatar Financial Centre PMI is a composite single-figure indicator of non-energy private sector performance. It is derived from indicators for new orders, output, employment, suppliers' delivery times and stocks of purchases.
The PMI posted 50.8 in October, from 53.7 in September, but the overall growth has been maintained since February, although the headline figure dipped below its long-run average (52.3, since 2017) in the latest period.
Total business activity among Qatari non-energy private sector firms rose further in October, with firms often reporting higher customer numbers. Output has risen every month since July 2020, except for a brief correction in January following the conclusion of the FIFA World Cup Qatar 2022™.The overall rate of expansion was the softest in 2023 so far, but construction continued to post a solid rebound in activity.
New business increased for the ninth successive month in October, with strong demand at wholesalers and retailers in particular. The overall rate of expansion eased since September, however.
Non-oil private sector employment expanded for the eighth month running in October. Recruitment was driven by construction firms and manufacturers, who also held the strongest 12-month outlooks for activity in October.
Supply chains continued to improve in October, as lead times for inputs shortened for the eighteenth consecutive month. Purchasing of inputs expanded for the eighth straight month, but only fractionally, as firms aimed to stabilise their inventory levels. Input stocks were unchanged since September.
October data indicated improving profitability for Qatari non-energy private sector companies. Prices charged for goods and services increased at the fastest rate in six months, while input prices fell for the first time in 2023 so far. Wages and salaries were only fractionally up since the previous month.
QFC Qatar PMI vs. GDP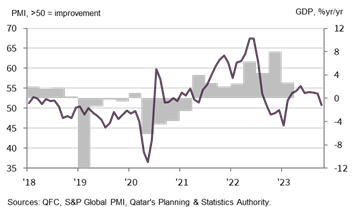 Sharp growth in activity sustained in October
Total workloads rise markedly at financial services firms
Slowest increase in new business in 2023 to date
Financial services firms raise charges at fastest rate in six months
Qatari financial services companies recorded another marked increase in total business activity in October. The seasonally adjusted Financial Services Business Activity Index posted 58.3, well above the overall private sector figure of 51.4 and a slight improvement on September.
Growth of total activity remained marked despite the slowest increase in new business in 2023 so far. That said, demand was still strong overall and more robust than the non-energy sector average. Meanwhile, employment at financial services firms rose for the seventh month running.
Latest data suggested improving profitability in financial services, with prices charged rising more quickly but average input costs up only marginally since September.
Business conditions in Qatar's non-energy private sector economy continued to improve moving into the final quarter of 2023, albeit at a slightly reduced tempo. The three main indicators for output, new orders and employment all registered further expansions in October and companies remained optimistic about the 12-month outlook.

While business volumes increased at a slower pace, the latest data suggested that firms' profits improved as the input and output price sub-indices moved in opposite directions. Charges rose for the second month running and at the fastest rate in six months, while input prices fell for the first time this year.

Data on financial services suggested the sector continued to outperform the wider economy in October. There was further strong growth in activity and new contracts with the respective indices posting 58.3 and 55.0


Yousuf Mohamed Al-Jaida

Chief Executive Officer, QFC Authority